Obituary for Vincent Evangelista
On July 9, 2017, Vincent "Vinnie" J. Evangelista finished a long and valuable life and left his new home in Florida to go to his Heavenly Home. Vinnie was born on June 20, 1929, in Worcester, Massachusetts, to John and Sabina (Malcangi) Evangelista. His parents immigrated from Bisceglie, Italy and raised their four sons on Shrewsbury Street. Vinnie attended Adams and Gage Street Schools, but would joke he attended MIT as he stood guard there while on active military duty. He began selling papers in the streets of downtown Worcester with his brothers at the age of 7 for the Worcester Telegram & Gazette. He was so proud of his brothers and constantly stated what good brothers he had and how much he missed them. His oldest brother Leo became a Captain for the Worcester County Sheriff's Department, and Joseph and Anthony, both of whom worked in the newspaper industry until their passing. Vinnie was a member of Our Lady of Mt. Carmel since childhood.

In 1945, Vinnie began working at Anderson Corporation as a wire brush machine operator. In 1951, he reported for duty to the United States Army and proudly served two years with the 32nd Ordnance Battalion, part of the Quartermaster Corps. Vinnie had vivid memories of each place he was stationed and loved to reminisce about Austria, Germany, the Mojave Desert and the brief visit to Naples, Italy only to not be allowed off the ship. He was most fond of Southern California. He could discuss this journey with great detail as if it were yesterday. He was honorably discharged from active duty and returned to Worcester in 1953 when his father became ill but continued to serve in the Reserves for 5 more years.

Vinnie resumed his position at Anderson Corporation and retired from there with almost 50 years of employment only when he was forced to do so because of health reasons. He was a member of the United Steelworkers Union, Local 5565 and served as the Local President for many years. One job was never enough for Vinnie. He worked part time for many years at his cousins' diner "The Parkway." Retirement was also not for Vinnie and he worked another 22 years at Wawa Inc. making hoagies until the age of 86. He was a lifetime member of the East Side Improvement Club and served as their President, and was proud of the revenue he helped generate by hosting weekly "Beano." He was also a member of the American Legion East Side Post 201.

In 1957, he met and fell in love with a single mother. He graciously took on the role of "Binnie" to Lucinda and later became "daddy." Vinnie and Marion married in 1962 and welcomed his pride and joy in 1964. Vinnie loved to speak of his military service, union work and accomplishments at East Side Improvement Club, when in fact his greatest role was that of father and provider. There was no event, meeting, appointment or opportunity for extracurricular activities missed. He would freeze his toes off to allow his precious Maria to ice skate at Elm Park or complete her horseback riding lessons in the middle of winter. He did the grocery and clothes shopping, spending many a Saturday at the Worcester Center in Lerner or some other female clothing store. Despite the challenges of divorce and blended families, Vinnie was always there to take care of everyone. He would graciously provide when someone needed groceries, a night out to dinner, a babysitter, or a new pair of shoes.

Speaking of shoes, Vinnie loved a snazzy pair himself. He was always impeccably dressed. He worked hard and liked nice things, and would occasionally shop for himself at Shack's or Marcel's, both well known to the sharp dressers in Worcester. Along with the clothes, were the cool vehicles. Vinnie was known to have a brand-new Buick or two in his day never allowing anyone to drive them, not even his wife.

Beginning in his single days, Vinnie loved to visit Salisbury Beach. "Salisbury" was also the family vacation spot for many years. As promised, Vinnie was able to take his daughter at age 11 on a trip to California. They traveled up the coast and went on every tour possible. He was so excited to meet Patti Page after a show he attended. Never to be forgotten was Vinnie's attempt at Tony Bennett's "I Left My Heart in San Francisco" on the plane ride home.

Vinnie was married to his second wife for many years. Theresa, a travel agent, made it possible for them to experience many adventures. Throughout their marriage, they went on several cruises and traveled to exotic islands. Unfortunately, Vinnie lost Theresa to Alzheimer's Disease.

While Vinnie loved coffee hour at Executive House and sharing an occasional home cooked meal and bottle of wine with his friend Bernie, he realized that he could no longer remain in Pennsylvania alone. Vinnie was transported to Florida by two United States Soldiers, his granddaughter Danielle and her husband Daniell. He wanted to come and live with his daughter but would not leave without his car that he admittedly could no longer drive. While the transition had its difficult moments, he adapted to his new surroundings stating many times "who would have thought I'd be living in Florida." Like his granddaughters, Duffy's Sports Grill became his favorite burger spot.

Vinnie's favorite pastime was a game of craps. He visited Foxwoods, Mohegan Sun but his favorite was Caesar's in Atlantic City where he was on a first name basis with many. There was never a missed Sunday taking the bus "down the shore." He was glad to know that there were casinos close by when he moved to Florida. On his first visit to the Hard Rock there was sheer devastation when he realized the State of Florida did not have live craps tables. That did not deter his future visits to Coconut Creek and games of Blackjack. Thankfully, he was able to go three times in the week preceding his death. Once with his daughter playing Blackjack for the first time by his side. Two more trips followed with his friend "what's her name," quickly remembering it was Lisa when the casino was mentioned. He was becoming forgetful but sharp as a tack when a deck of cards was on the table. Vinnie was a lifelong Boston Red Sox fan and his favorite player was Ted Williams and he was still able to share his stats. He spent his last afternoon watching a game.

Vinnie was an avid jogger for many years and one of the first to join Bally's in Worcester. He attributed his healthy (although he was a cancer survivor), long life to his jogging and the fact that he quit smoking cigarettes at the age of 28. He would tell the story to anyone with a cigarette in their hand, but said he knew quitting was the hardest thing to do. He would say if he smoked the way he did back in the day, he would go broke and the fact that he only paid $.13 a pack then.

While his time in Florida was much too brief, he made an impact on everyone he met. He was too shy visiting the Senior Center but thankfully met a new friend on the first day. Rose would get Vinnie out of the house as often as possible for lunch or to do an errand. While he was getting around quite well, Vinnie was too proud to use a cane to walk long distances so Rose got him riding around on the scooters in Target. He celebrated his 88th birthday having cake and being sung to by everyone at Adopt-A-Family and was beaming like a kid, and continued to say he was 39. He loved being around people and always had a story to share. He was fondly referred to as "Uncle Vinnie" by many who knew him, and remembered as a sweet, gentle man.

Fortunately, Vinnie was able to spend his last Father's Day and birthday with his daughter. He formed an instant bond with his great granddaughter and she spent many hours "snuggling with Papa" while watching Family Feud and Wheel of Fortune.

Vinnie will be deeply missed by his daughter, Maria Evangelista, with whom he lived, his granddaughters, Danielle Ledezma, Roxanne and Veronica Lemieux and his great granddaughter, Antonia Evangelista. He leaves a stepdaughter and granddaughter, Lucinda and Vanessa Vaudreuil, and a host of cousins, nieces and nephews in Massachusetts, Pennsylvania, California and Florida. Vinnie leaves his beloved Shih Tzu, Chloe, in Pennsylvania with her caretaker, Dobbie.

The proud Disabled American Veteran's Inurnment with Military Honors will take place on Friday, July 21st at 9:00 a.m. at South Florida National Cemetery.

In lieu of flowers, memorial contributions can be made to Project New Hope, Inc. in Worcester or Adopt-A-Family of the Palm Beaches, Inc. in Lake Worth.
To send flowers or a remembrance gift to the family of Vincent Evangelista, please visit our Tribute Store.
Previous Events
Inurnment
South Florida National Cemetery
6501 S. State Road 7
LAKE WORTH, FL 33449
Cemetery Details
Location
South Florida National Cemetery
6501 S. State Road 7
LAKE WORTH, FL 33449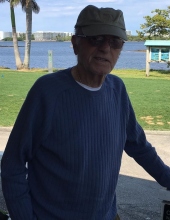 Thank you for sharing your
memory of Vincent
Provide comfort by sending fresh
flowers from our local florist.
No thanks, please don't show me this again.